SVG Motors offers a wide variety of pre-owned vehicles to suit the needs of any individual or family. However, there are those who crave powerful, asphalt-scorching horsepower...but are on a budget. No worries, SVG can satisfy this crowd, too! Check out our list below of vehicles with the most horsepower around $25K!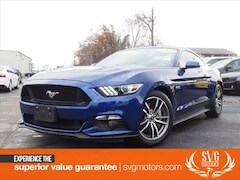 #1 -
The 2015 Ford Mustang GT Coupe
.
The 435 hp and 400 lb-ft of torque is a very healthy amount of power to have under the hood. The Mustang is an iconic muscle car that continues to have a huge following. Is it any wonder why? Affordable pricing combined with aggressive looks and plenty of power make this vehicle a favorite across generations. You can find this Mustang located at the SVG Chevrolet dealership in Greenville, Ohio for just $25,900. Want to take it for a test drive? No problem! Call 937-548-7643 and ask for a test drive appointment.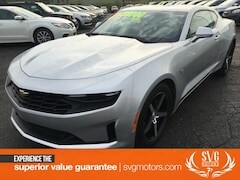 #2 - The Chevy Camaro 1LT. Now, the Camaro does have options that offer more horsepower than the 1LT package, however, we've got a 2019 Camaro boasting
a 3.6-Liter LGX naturally-aspirated V6 rated at 335 horsepower and 284 lb-ft of torque. Yes, this is a 2019 for LESS than $25k! Who wouldn't want a powerful and good looking, close-to-new Camaro for that price?! You can find this beauty at the SVG Motors location right here in Dayton. This car is definitely a popular model, so if you're interested, make an appointment to see it today! Call 937-548-7643 now.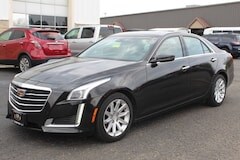 #3 - The 2015 Cadillac CTS. Cadillac has long been associated with luxury. Gearheads also know that they're usually one of GM's most horsepower-heavy vehicles. This CTS features
a naturally-aspirated 3.6-liter V-6 making 321 hp and 275 lb-ft. That's plenty of get-up-and-go with lots of convenience features, luxury, and class to boot. This gorgeous ride is located at the SVG Chevrolet Buick GMC dealership in Urbana, Ohio. Too far to drive? SVG can help. Using SVG Express, you can purchase the vehicle online and over the phone and we'll deliver it to you. Just want to test drive it? Call for an appointment.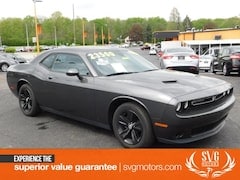 #4 - The 2017 Dodge Challenger. The Challenger features retro styling on the body lines, but Dodge didn't stop there. To honor the Challenger's musclecar history, they outfitted this Challenger with 305 hp and 268 ft-lbs. of torque. Come give this super affordable muscle car a test drive and you'll discover why so many people love their Challengers. You can see this car at the SVG Motors lot on Shoup Mill Road in Dayton. Stop by or call to make an appointment for a test drive. We think you'll fall in love.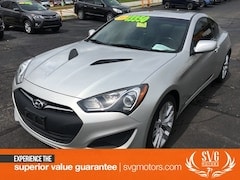 #5 - The 2014 Hyundai Genesis Coupe 2.0T Premium Coupe. This little Hyundai might have the smallest amount of horsepower on our list with
274 horsepower and 275 lb-ft of torque, but it's also the smallest and lightest. What that means is that the weight-to-horsepower ratio is in such good proportion that this little rocket can deliver a 0-60 time of just 5 seconds! This is a full second and a half faster than the V6-equipped Challenger, and it comes at just half the price. Truly this little car delivers a big punch for a very small price tag. If you like performance and you're on a strict budget, this Hyundai just might be the perfect fit for you. Come see it at our SVG Motors location today!