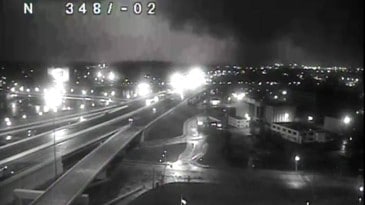 Devastating tornadoes swept through Dayton and the Miami Valley on Memorial Day weekend. One of the hardest hit areas was Harrison Township, where SVG Motor's Auto Group headquarters is located.
Despite suffering damage to inventory and the building due to the tornado, SVG Motor's President and Owner, Steve VanGorder, was onsite Tuesday morning arranging for first responders, volunteers, and displaced residents to have food and water. Mr. VanGorder is thankful for the support that Dayton area residents have shown him over the past 5 years as he's built his auto group and wanted to help the community through the crisis.

In the coming days as Miami Valley residents begin digging out from the rubble, they can rest assured that SVG Motors will be available to help people find new cars to replace those lost during the storms. To make the process of securing a new vehicle as easy as possible, anyone who is in need of a new or pre-owned vehicle can use the SVG Express service. Using the SVG Express service allows customers to shop for and purchase a new vehicle without requiring a trip to the dealership. SVG Motors will even deliver the vehicles to their customers. To use SVG Express, visit
https://www.svgmotors.com/svg-express.htm.
For those who have repairable damage to their vehicles, please feel free to call the friendly SVG Motors customer service representatives at 937-548-7643 and they will get your vehicle scheduled for repair. Our highly qualified technicians are ready to get vehicles looking like new again. They work with insurance companies daily and can help customers navigate through the claim process to ease the overwhelming burdens caused by the storms.
SVG Motors wishes to thank the first responders and volunteers who've dedicated so much time and effort to protect and serve the citizens of the Miami Valley. Please continue to pray for the victims of this tragedy that they may find peace, comfort, safe housing and relief.

photo credit: Ohio Department of Transportation