We're getting closer to the finals! It's Round 2, Game 2 time

At the conclusion of Round 2, Game 1, the GMC Sierra was victorious over the Jeep Gladiator, which means it will battle against the vehicle that today's game.

In Round 1, we think nostalgia was a factor in the Dodge Challenger winning out over the Charger since the Challenger's styling and lines have heavy influence from the 1970's Challenger. Also in Round 1, the Chevy Corvette won out over the Chevy Camaro. Fans of the Corvette cited the long history the Corvette has (it's been in production since 1953), and its massive horsepower ratings as the reason they chose it. So where does that leave us now? With two monstrous muscle cars vying for a spot in the final round.

It's likely that most fans will be voting with their hearts in this round as the Challenger and the Corvette both seem to have very loyal followers. But for the cerebral type who want to compare specs, we offer this chart: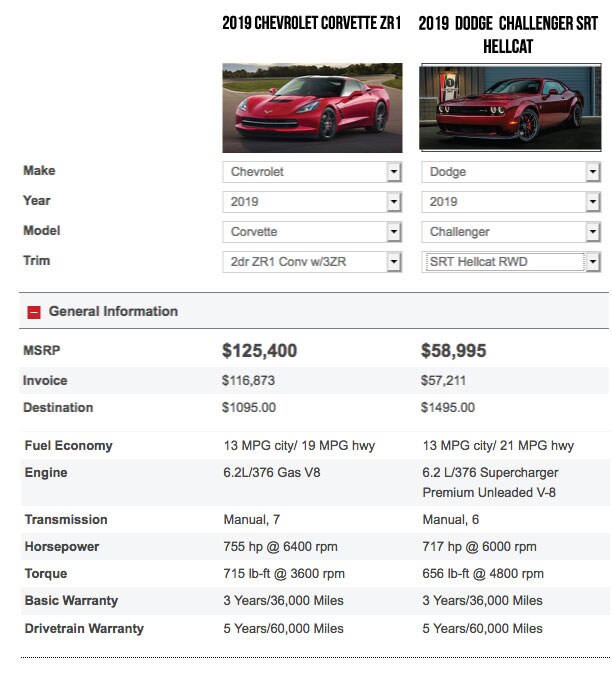 It's time to cast your vote...are you on the Highway to Hell(cat) or loving the Little Red Corvette? Vote now by visiting our Facebook post!
---
More March Madness Fun!
Be sure to check our Facebook page tomorrow to see who is victorious in Round 2, Game 2, and read about Finalists!
All entries for the t-shirt giveaway have now been collected and the entry period is closed. That doesn't mean you can't still win something though! Check our blog and Facebook posts often, we're going to be giving away TWO Facebook Portal devices soon!