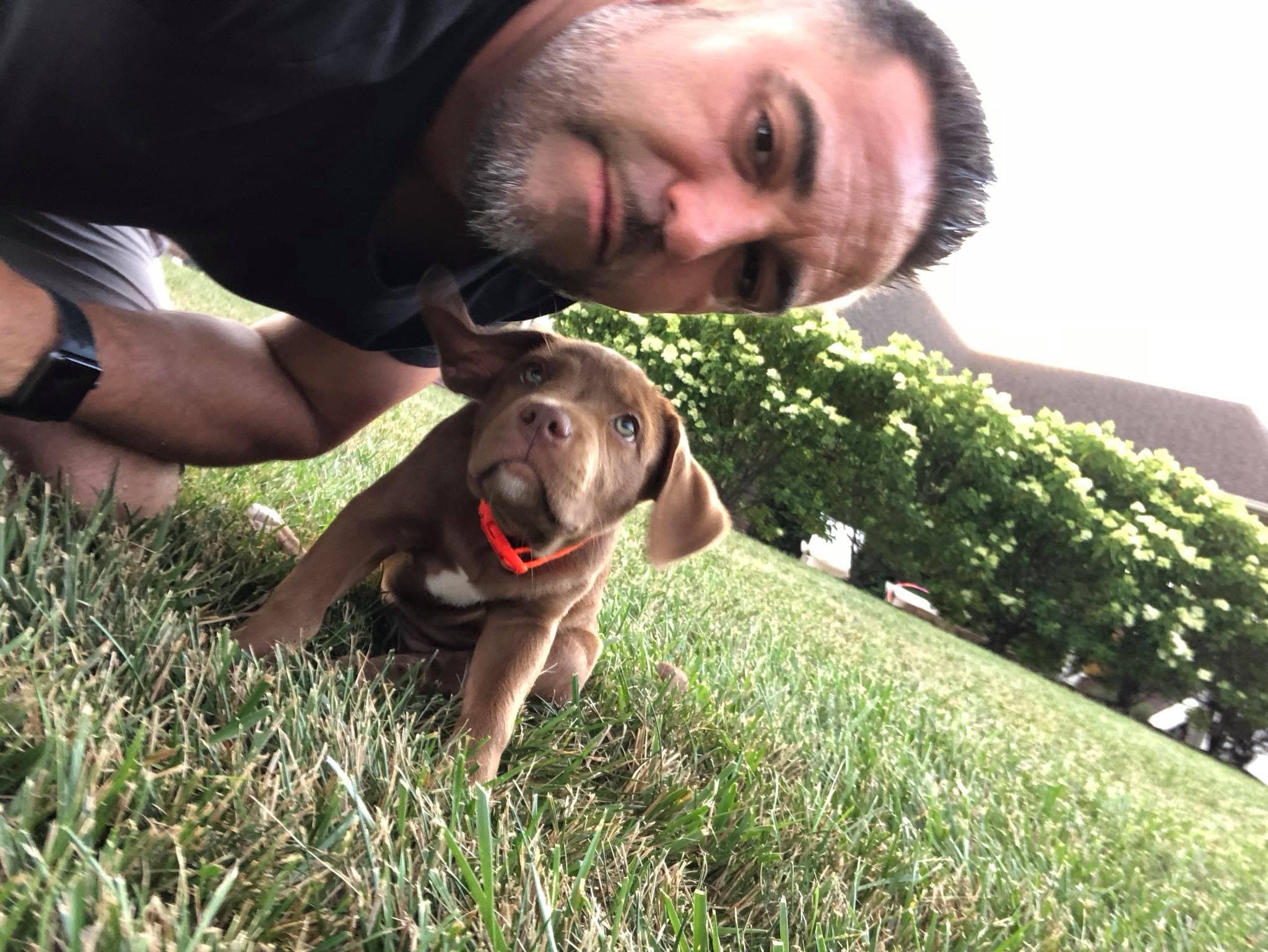 At SVG, we LOVE our dogs. They go everywhere with us! Steve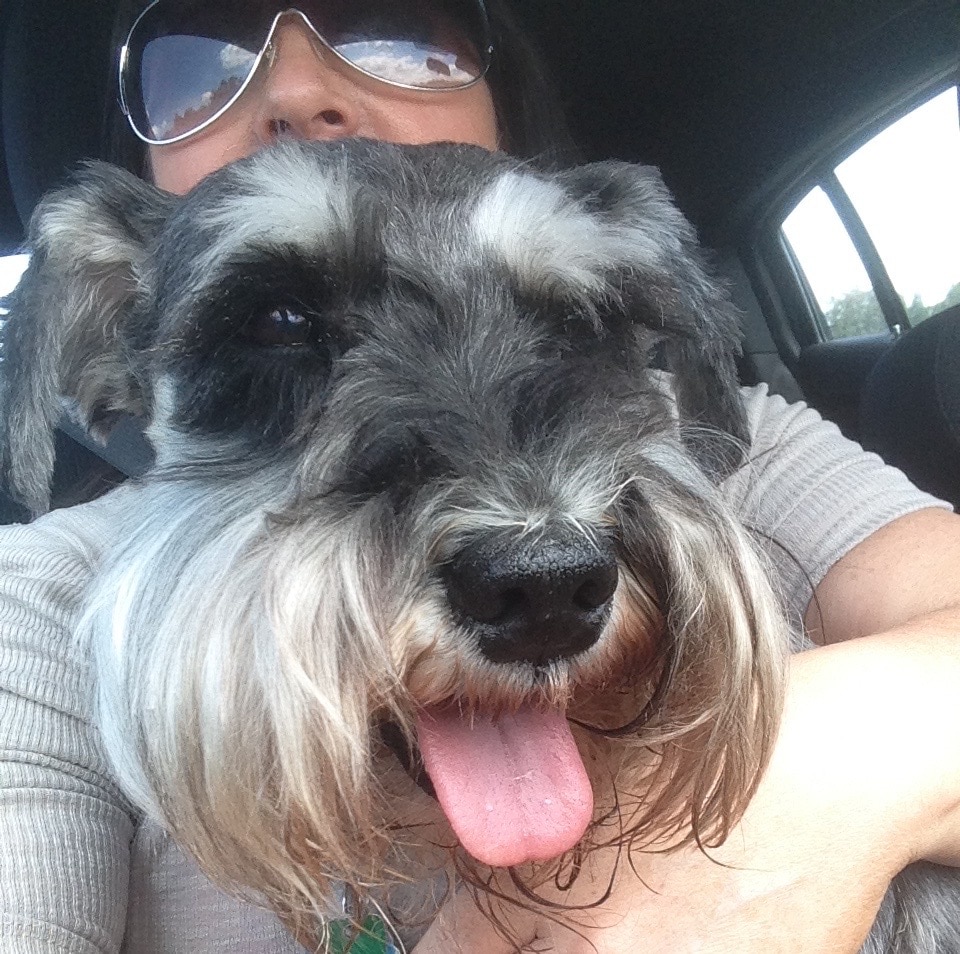 VanGorder, the owner of the SVG Auto Group, often brings his dog Phoenyx in to work with him.
SVG's Director of Marketing, Lynn Mitchell, has a mini Schnauzer, Schatzi, who's her road trip sidekick. While we love having our dogs with us (and they love going "bye-bye'), they do present some challenges when traveling. In this blog entry, we present some common "dog-in-your-car" issues and how to address them.

1.)You wear your seat belt, shouldn't your dog?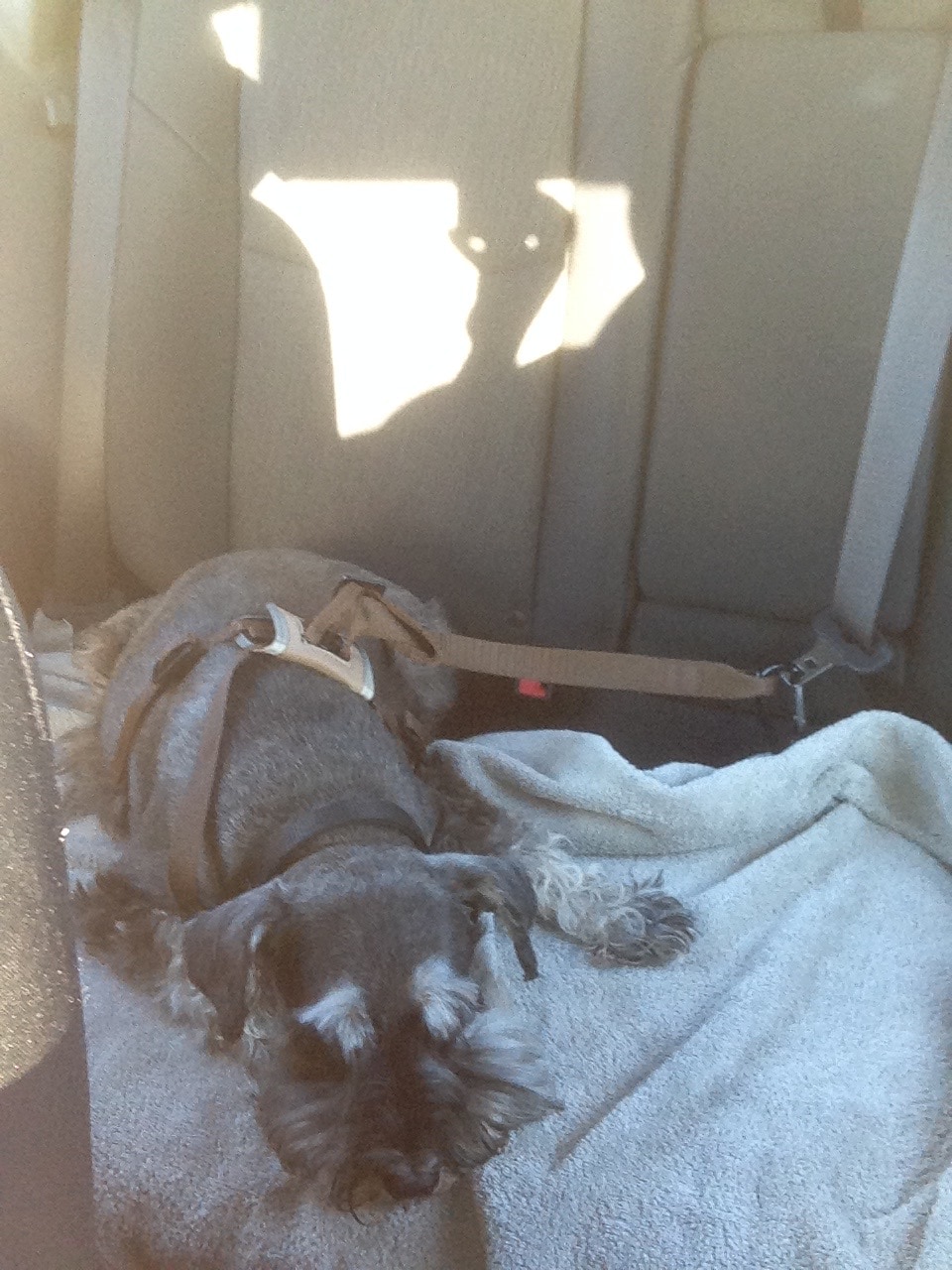 Your dog may be an agile jumper, but bouncing back and forth between the front and back seat is not only dangerous for him, it's distracting for you. One option to curb this behavior is to install removable netting between the front and back seat, or an even better option is to use a dog-specific seatbelt harness. To find one, simply search "dog seatbelt" in any popular online store such as Amazon or Chewy.com. You'll be presented with dozens of affordable options. Lynn uses a seatbelt harness on Schatzi when she takes him to Florida for vacation (shown in the picture above). Schatzi is comfortable while traveling, and it helps prevent potential injuries during sudden stops. If you're not sure which brand to buy, it's always best to ask for recommendations from your vet on which brand they prefer.


2.)It's not FURniture
Some of t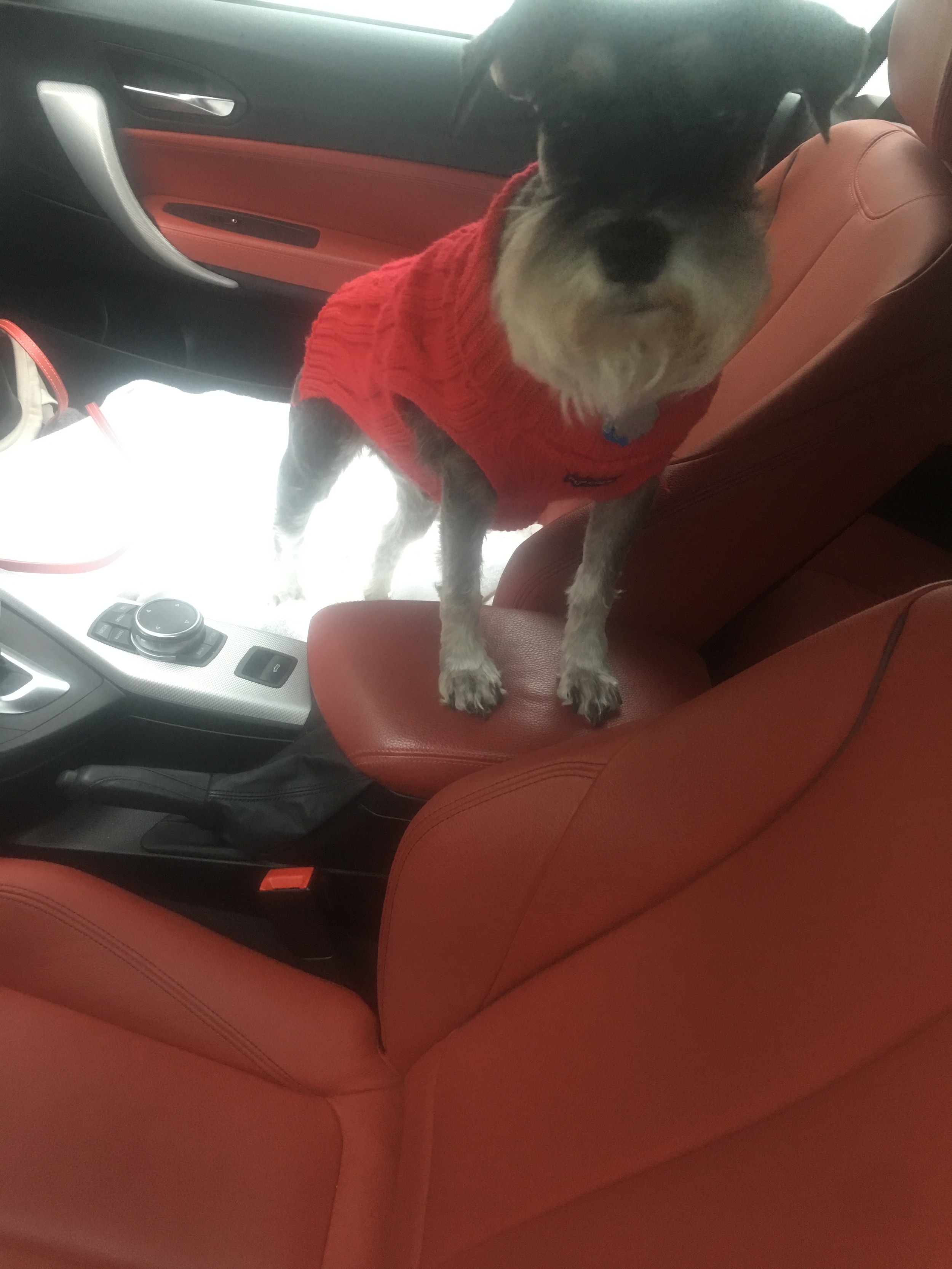 he most adorable dogs we know are also the worst shedders. A trip with a Labrador Retriever can leave an SUV looking like Edward Scissorhands groomed your dog in the back seat. One easy solution is to lay down some canvas or towels on your seats before allowing your pup in. Keep in mind that fabrics can easily move unless they're securely fastened to the seat which will leave you with little protection from flying fur embedding into your interior. Be cautious that towels on top of leather seats can cause your dog to slide more easily which could increase his risk of injury.

Speaking of leather interiors, one other issue to be aware of is the effect dog nails can have on leather interiors. While Schatzi is an excellent travel companion, his nails could seriously damage Lynn's leather seats. By placing several bath towels on her seats (as seen in the photo above), it helps prevent his nails from ripping, scratching, or marking the leather. A benefit to leather seats is that dog hair/fur is easier to sweep out than in a vehicle with a fabric interior.

One of the best options we've seen to keep dog fur from taking up permanent residence in your vehicle is a fitted seat cover. These covers are specially designed to fit the back seats of vehicles and they make it easy to get rid of fur after Fido jumps out. Simply take the protector out of the vehicle, shake, blow, or hose off the fur, and you're ready to go.

3.)Whoops, that's gonna stain
It can happen, especially for pets that don't travel often – poop, pee, & vomit. Our pets never do this to purposely aggravate us, but preparing for possible potty accidents can help both you and your pup relax. The easiest way to help prevent accidents is to prepare before leaving. Take your dog out for a long walk to tire him out and give him plenty of chances to take care of business. If possible, refrain from feeding him his normal amount of food before leaving (you can reduce his normal amount by 20% or so). Whatever part of his meal you held back from feeding him before leaving should be kept in a ziplock. Take frequent breaks during your road trip and feed him a few bites of the kibble during each break as long as he seems to be tolerating the ride well. It is common for dogs to get car sick. Taking frequent breaks can help. Don't feed him anything that's not a normal part of his diet before or during your trip. If, despite taking frequent breaks and feeding your dog carefully your pup still has an accident, be ready for it by having garbage bags, baby wipes, paper towels, animal-safe disinfectant, extra-large ziplock bags, and air freshener on hand. After removing the offending substance, put it (along with any wipes, towels or other items used for cleanup) in one of the ziplock bags. This will help keep the smell at bay until you can find an appropriate place to dispose of the yucky stuff. It can also be helpful to have multiple bath towels in your vehicle. If your pet has an accident on one, you can just stuff it in a ziplock and put another towel down.
By following these tips, you should be able to enjoy plenty of road trips with your furry best friend.