In 2018, the Chrysler 300 , Pacifica, and Pacifica Hybrid are coming to you with some cutting-edge technology*. Whether you're a geek at heart or a family looking for the ultimate in entertainment, read on to find out what Chrysler features you're going to swoon over.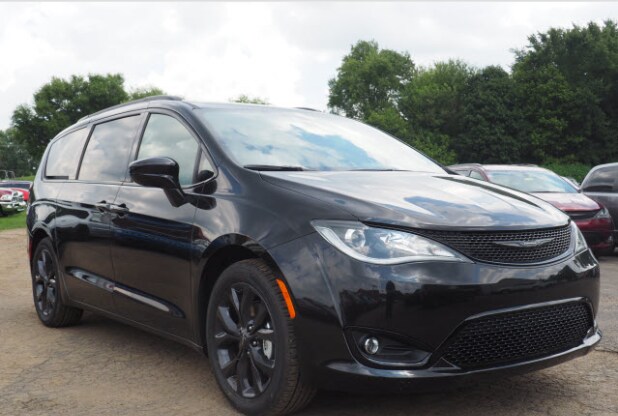 Road Trip Soundtrack
Cars give us freedom to roam and nothing goes better with a good road trip than music! With the Uconnect system, your road trip music list can come from local radio stations, podcasts or playlists on your mobile device. The available SiriusXM® Satellite Radio gives you access to more than 150 channels of news, sports and entertainment on demand.
Craving more than music? Use devices such as smartphones, tablets, gaming systems, and digital cameras to connect to the available Uconnect® Theater so passengers can watch movies, play games and surf the internet. With a generous 10.1 viewable area on the dual high-def touchscreens, backseat riders are in for a visual treat.
Run out of battery power for your mobile device? Chrysler has you covered. You can charge devices with a variety of second- and third-row USB and Mobile High-Definition Link (MHL) charging ports.
Uconnect Theater – Making the Miles Seem Shorter
You've already read a bit of what the Uconnect Theater can do, but did you know the back row seats also get a blu-ray player, dual HDMI inputs, wireless streaming and headphones? Young passengers can access the games and apps available on the touch screens for hours of entertainment.
Some games that kids can look forward to playing while on the road include the License Plate Game, Backseat Bingo, Math Flash Cards, and Backseat Bingo. There is also an Are We There Yet app.
SiriusXM Guardian – Convenience Galore
The SiriusXM Guardian is available in the Chrysler 300 and Pacifica Hybrid models. Technology is working to protect you and provide you with convenience. Think how much you'll appreciate the Uconnect app working alongside SiriusXM Guardian to allow you to remote start your vehicle, unlock and lock the doors, or sound your horn and flash your lights from anywhere. Lost your vehicle in a huge parking lot? No worries, it has a Vehicle Finder.
Convenience is nice, but safety and protection is paramount. Sirius XM Guardian offers emergency assistance and owner assistance, which gives a monthly vehicle health report, and security services. In the Pacifica Hybrid, Hybrid Electric Pages updates you on the vehicle's power flow and keeps your driving history. Use the app to schedule charging times, check the vehicle's power level, and estimated time to full charge.
These are just a few of the many technological features that drivers can find in the 2018 Chrysler models. For more information, you can visit SVG Chrysler Jeep Dodge Ram in Eaton, Ohio.
*All Uconnect systems get AM/FM radio, auxiliary input, and a USB port for multimedia devices. Every Pacifica model has Bluetooth streaming audio, and SiriusXM Radio while the Chrysler 300 has a single CD/MP3 Player and an additional DVD player with the 4C Nav. HD radio also comes with the 8.4-inch screen Uconnect systems. The Chrysler 300 and Pacifica Hybrid models come with SiriusXM Guardian built in the 4C systems. Phone applications that come with the Uconnect system include hands-free calling, Android Auto, and Apple CarPlay. A Do Not Disturb feature is available with 8.4-inch screens. Uconnect voice command and Siri are standard features of Chrysler Uconnect systems.